Race Of Champions se convertirá en el primer evento internacional de deporte motor que se lleve a cabo en el Reino de Arabia Saudita a principios de 2018.
Arabia Saudita se convertirá en el décimo país en ser anfitrión de la gala de carreras llamada Race Of Champions.
El evento de dos días se llevará a cabo a principios de 2018 en el Estadio Internacional King Fahd. Apodado como "La Perla", este inmueble generalmente sirve para eventos de futbol y de atletismo.
 ROC de nuevo unirá a los pilotos estrella de las diferentes categorías para tener una competencia de uno contra uno hasta que exista solamente un ganador. En esta celebración de la temporada 2017 se encontrarán pilotos de Fórmula 1, LeMans, IndyCar y Rallycross para determinar el campeón de campeones.
El comunicado oficial dice: "Más detalles , pilotos participantes y las fechas exactas para el ROC en Arabia Saudita serán anunciados pronto, pero la Autoridad General Deportiva ha confirmado que la Race Of Champions será un evento familiar, abierto a todos los géneros, pilotos, exhibiciones y actividades dignas de los requerimientos culturales específicos de un Reino.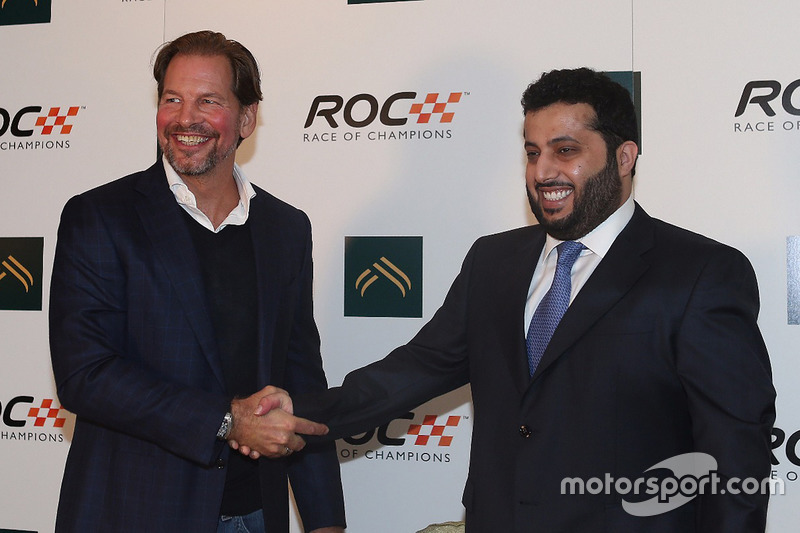 ROC President Fredrik Johnsson and his Excellence Turki Al-Sheikh, President of the General Sport Authority of Saudi Arabia
Photo by: Race of Champions
Time of great change
The move comes at a time of change in the Arabian state, which is the fifth-largest in Asia and second only in size to Algeria in the Arab world.
Last month, Saudi Arabia's King Salman issued a royal decree that it was easing restrictions on women driving from next year. Crown Prince Mohammed bin Salman, the 32-year-old son of the king, has also laid out a reform package for the kingdom's economy and society called Saudi Vision 2030.
"Our organisation is honoured to be working with the President of the General Sports Authority, his Excellency Turki Al-Sheikh, to bring Race Of Champions to the region for the first time in the event's 30-year history," said Fredrik Johnsson, Race Of Champions President.
"As motorsport's most forward-thinking property, ROC is an event perfectly suited to Saudi Arabia, which is emerging as a modern sports market on the global stage.
"With women able to drive in Saudi Arabia from 2018, we feel this is an auspicious moment to be bringing a motorsport event to Riyadh. Race Of Champions is more than just a race: it is a truly global contest that includes many of the world's best drivers along with top-quality entertainment for families."
Team Germany Sebastian Vettel, beats Team Colombia Juan Pablo Montoya, driving the Ariel Atom Cup
Photo by: Race of Champions
Miami return also on the cards
Riyadh's 75,000-capacity King Fahd Stadium will join a list of prestigious venues to have hosted ROC that include Beijing's Bird's Nest and London's Olympic stadiums, the iconic Stade de France in Paris and Wembley Stadium in London, plus Miami's Marlins Park – the event's first North American destination.
ROC organisers are also in the process of agreeing upon the site of its 2018 season finale, which is expected to return to Miami, Florida at the end of 2018.
Indy 500 and Monaco Grand Prix winner Juan Pablo Montoya is ROC's reigning Champion of Champions after the Colombian claimed his first title in Miami this year, while four-time FIA Formula 1 World Champion Sebastian Vettel helped Team Germany win its seventh ROC Nations Cup.